The Reunion
Chile
March 2nd
BY: Trinidad Gonzalez
TRANSLATOR: Alexandra Ripp
PARTNERS: Teatro nen el Bianco, Instituto Cervantes Chicago, Columbia College Chicago, MCA Stage Museum of Contemporary Art
DIRECTOR: John Green
SYNOPSIS:
When Spanish royalty imprisoned Christopher Columbus for abusing his power in the Indies, the explorer begged an audience with Queen Isabella to explain himself and plead for absolution.
La Reunión, an intense single-act play, revisits this historic event to imagine a conversation between Columbus and Isabella, in the hour before the queen's death in 1504. This steely vivisection of history and personal responsibilities takes place in the privacy of the queen's chambers. In a probing dialogue, they duel about the power of the church and the oligarchy, class struggle, and the vindication of indigenous people, all the while accusing each other of greed and false morality. Stripped of props and design, the bare stage focuses the audience's attention on two people whose actions changed the world—with only a massive round table, and their heated words, between them.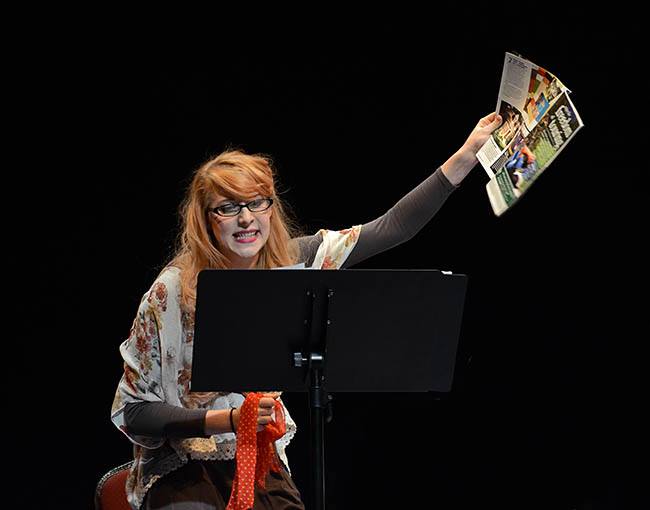 No Matter How Hard We Tried
Poland
March 1st
BY: Dorota Maslowska
TRANSLATOR: Artur Zaoakiwski
PARTNERS: Trap Door Theatre
DIRECTOR: Max Truax
SYNOPSIS:
No Matter How Hard We Tried is literary phenomenon Dorota Masłowska's hilarious and devastating portrait of a schizophrenic post-communist Polish society divided against itself, buried under the weight of history, and torn between national pride and shame. With wildly inventive language and razor-sharp humor the play captures Poland's contemporary moment bringing together nouveau-riche media celebrities, the abject poor, phony artists, and disaffected youth all struggling to stay afloat in a toxic stew of commercialism, intergenerational confusion, Catholic nationalism, and idealized visions of Poland's tragic past.
Nothing of Me
Norway
February 24th
BY: Arne Lygre
TRANSLATOR: May-Brit Akerholt
PARTNERS: Akvavit Theatre
DIRECTOR: Breahan Pautsch
SYNOPSIS:
The new play is the story of a passion gradually convulsed by visiting ghosts from the past, and by the risk at which the characters are from one another. In a playful style Arne Lygre delves into the bond of love, its force and its dead-ends, using ruthlessly telltale dialogue. The play warns us of the danger we're at of imprisoning others within our expectations, through the very love we feel for them.
A Chance Encounter and Withdrawl
Syria
February 23rd
BY: Mohammad al-Attar
TRANSLATOR: Clem Naylor
DIRECTOR: Fouad Teymour
SYNOPSIS:
"A Chance Encounter" and "Withdrawl:" Come see our Syrian double feature on February 23rd of Mohammad al-Attar's readings "A Chance Encounter" and "Withdrawl."
"Playwright Mohammad al-Attar accurately captures, and cleverly conveys, the prevailing national sentiment in Syria in two different eras close in time but very far apart in circumstances. WITHDRAWAL, written in 2007 after the confirmation of Bashar Al-Assad to a second term as president in an uncontested referendum, follows a young couple's unsettled relationship as it develops in Damascus; a bustling city ever-present along them on stage. In contrast, A CHANCE ENCOUNTER, set in early 2012 on an open air beach, in Beirut of all places, gives us a glimpse into the Syrian social and political atmosphere following the 2011 popular uprising against the Assad regime."
The Walruses
Cuba
February 22nd
BY: Laura Liz Gil Echenique
TRANSLATOR: Yael Prizant
PARTNERS: Vitalist Theatre, Instituto Cervantes Chicago
DIRECTOR: Kelly Lynn Hogan
SYNOPSIS:
The essential desire to share genuine intimacy compels lovers to stumble toward one another in an eternal dance as basic as breathing, revealing that we can be as authentic as the rest of the creatures of the earth, who have much to teach us, if only we could listen.
We Are a Hundred
Sweden
February 17th
BY: Jonas Hassen Khemiri
TRANSLATOR: Rachel Willson-Broyles
DIRECTOR: Anna C. Bahow
SYNOPSIS:
A near-death experience! In Khemiri's third play we meet a trio of women: A young revolutionary, a middle-aged comfort junkie and an old truth seeker. Three persons who, in their fight to define themselves, realize that they are the same person. Join Jonas Hassen Khemiri's unpredictable world where everyone fights to define the meaning of the word "we".
Best Brothers
Canada
February 16th
BY: Daniel MacIvor
PARTNERS: Consulate General of Canada
DIRECTOR: Patrizia Acerra
SYNOPSIS:
A bittersweet comedy from one of Canada's most beloved playwrights that explores the many ways in which we grieve and the love we find in unexpected places. Bunny Best has met her unfortunate end after a mishap at a Gay Days parade. Now her two sons, Kyle and Hamilton, have the task of arranging her funeral and caring for her most beloved companion, a troublesome Italian greyhound named Enzo. In the bustle of obituary-writing, eulogy-giving, and dog-sitting, sibling rivalry quickly reaches its peak and years of buried contentions surface.
The Ramayana
India
February 15th
ADAPTED BY: Gopal Sharman
PARTNERS: Rasaka Theatre
DIRECTOR: Anish Jethmalani
SYNOPSIS: Rama, the prince of Ayodha, is exiled to the forest, but after many adventures he discovers that his wife has been abducted by Ravana, the king of demons, and Rama needs the help of Hanuman and his army of monkeys to rescue her.